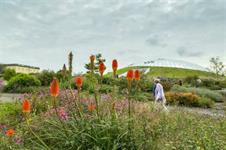 When they visit they may appreciate that they are seeing rare plant collections but may not see any major difference between a botanic garden and other public gardens with high horticultural standards. They may not appreciate the scientific research being undertaken, the cross-cultural exchange of knowledge about plants, the vital role of botanists in understanding, protecting and learning about plants and the earth's ecosystem in general.
Knowledge of what goes on behind the scenes in a botanic garden is so poor that campaigners had to point out the vital scientific work carried out by Kew scientists to MPs when Defra made £1.5m of cuts in 2014, plunging the gardens, which were already running an annual deficit, into crisis. Kew made more than 100 people redundant, half of them scientists. The Government finally listened and, two years later, agreed a £130m funding package up to 2020.
New gardens can open and call themselves "botanic" but may not necessarily have these features in place. Now a new accreditation is seeking to clarify this.
The Botanic Gardens Conservation International's (BGCI) Botanic Garden Accreditation is open to BGCI members (no fee) and non-members (US$65). The BGCI says it has designed the accreditation to be as inclusive as possible while still setting a global standard for botanic gardens. The application process involves filling out a questionnaire and providing documented evidence of activities. The criteria measure, assess and value the fundamental components of a botanic garden.
Criteria include:
Strategic direction and governance.
Open to the public.
Documented collections.
Public education.
Horticulture.
Research capacity.
Conservation activities.
Sustainability and ethics.
Specialist expertise.
Network membership.
Gardens receive a certificate of accreditation and logos for use in marketing. The BCCI will also highlight recently accredited gardens on its news homepage and in its newsletter, Cultivate.
Launching the new accreditation at the eighth European Congress of Botanic Gardens in Lisbon, Portugal, on 7 May, consultant working with the BGCI Brian Lainoff said: "We want to motivate and empower gardens to do more in plant conservation.
"Accreditation can result in tangible benefits for participating gardens — such as recognition, peer comparison, creating standards for excellence and funding — and will act as a motivator for botanic garden leadership."
The first UK botanic garden to gain the accreditation, and one of the first six in the world, was National Botanic Garden of Wales.
Accredited botanic gardens:
Gullele Botanic Garden, Ethiopia.
Huntington Library, Art Collections & Botanical Gardens, USA.
Jardín Botánico Universitario — BUAP, Puebla, Mexico.
National Botanic Garden of Wales, UK.
Pha Tad Ke Botanical Garden, Laos.
University Botanic Gardens, Ljubljana, Slovenia.
Wollongong Botanic Garden, Australia.
National Botanic Garden of Wales, the first national botanic garden to be established this century, has been working with the BGCI as the latter developed the accreditation. Curator Will Ritchie says everyone at the garden, in Carmarthenshire, is delighted to be chosen as one of the first in the world to be accredited, adding that it acknowledges the team's hard work and commitment to conservation, education and research since opening in May 2000.
"BGCI thought we were a good example of a genuine botanic garden. I think we were chosen because our scientists were internationally published and we were also doing conservation in Wales and internationally. They are interested in our research."
BGCI made a full assessment of National Botanic Garden of Wales' work. It looked at all its publications and conservation work as well as, as Ritchie puts it: "What botanic gardens are doing for the common good."
He says the accreditation is useful because it can be difficult to show the depth of conservation and research in which staff are involved. "I think it will be really helpful because it will show our stakeholders and our visitors that when they buy a ticket they are investing in our research. It puts us on the map."
Future accreditation
Other botanic gardens are also interested in the accreditation. The Eden Project director of life sciences Dr Mike Maunder says: "We will be proceeding with Eden's accreditation application through BGCI. Accreditation is a vital step forward for botanic gardens and is evidence of their continued professional evolution under the leadership of BGCI."
Ritchie adds: "I want to encourage other people to do it. It shows the depth of research that people are doing. It's making sure that we are doing that.
"It's an opportunity for smaller botanic gardens to celebrate what they should be doing. You could be a smaller botanic garden and still be doing all these elements of a botanic garden. It's not a question of size. It's more about improving education, research and conservation.
"I think it will raise standards. It will make sure people are fulfilling their roles, it will differentiate between botanic gardens and other gardens, and it's another way to illustrate the depth of the work that goes on. The scheme will show that botanic gardens are doing all the things they are supposed to be doing."
BGCI was established in 1987 to mobilise botanic gardens and engage partners in securing plant diversity for the well-being of people and the planet. It now has 508 members in 92 countries.
The group is also developing two accreditations for people — BGCI Conservation Practitioner and BGCI Advanced Conservation Practitioner — and is looking for help to develop the methodology and assessment criteria. If you are interested in taking part, email Brian Lainoff at brian.lainoff@bgci.org.
This post was written by: HortWeek