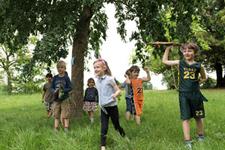 The week, from 21 to 29 July will feature events and activities that celebrate London's green space and explore opportunities to make it greener.
The mayor's office is working with the National Park City Foundation  on the project and calling for people to host an event.  To get involved, submit an idea on the London National Park City Week webpage by 20 April.
Khan pledged to make London the UK's first National Park City in the Draft London Environment Strategy. The National Park City campaign and mayoral policy both have a target of making half of the capital green space. The strategy aims for this to happen by 2050 and for tree canopy cover to increase by 10% by the same year.
In January, east London borough Hackney approved The Connecting Green Spaces programme as part of its National Park City ambitions. The programme aims to improve park entrances and boundaries, promote better connections between green spaces, and connect green spaces together where they are currently dissected by roads.
This post was written by: HortWeek