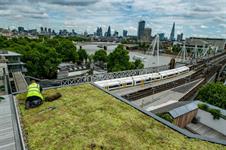 The charity and professional body created the guide to solve a discrepancy between policy ambition and useful advice. They said that while the National Planning Policy Framework (NPPF) contains ambitious policies on climate change on-the-ground delivery remains slow, largely because of a lack of practical advice and support to local councils on how to secure a radical reduction in carbon emissions.
They also criticised Government guidance as "weak on adapting to climate change, particularly in relation to addressing issues such as heat waves and sea-level rises".
The new guide, 'Planning for Climate Change – a Guide for Local Authorities',  to be launched  by Caroline Lucas MP, provides an overview of policy and legislation which can be used to address climate change at a local level. 
TCPA director of policy, Hugh Ellis, said: "Climate change is remaking our society and the impacts will be severe and lasting. The opportunities for action could also be transformational in harnessing new energy and engineering technologies to make our communities safe over the long term.   
"A resilient and sustainable future is achievable, but only if we act now. This guide sends a powerful message to councils and planners that we can meet the climate challenge."
RTPI chief executive Victoria Hills said the guidelines will be a valuable resource which "should prompt more concerted actions on this vital issue".
"Planners have a leading role in joining up the dots, from housing and transport to flood risk mitigation and energy, to ensure communities benefit from a holistic approach to tackling climate change," she said.
Today's guidelines will be a valuable resource and should prompt more concerted actions on this vital issue.'
BRE, Floodline Developments and EPICURO also worked on the guidelines.
This post was written by: HortWeek