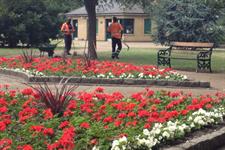 The petition, on the 38 Degrees website, was created by The Parks Alliance as the Heritage Lottery Fund (HLF) consults on its new five-year funding framework, due to start in 2019.
The HLF proposes a new streamlined system of grants but has ditched the dedicated Parks for People funding pot – worth £25m for England and £3m in the devolved nations in 2017/18. 
Now parks have to compete with other heritage projects such as historic buildings to win funding. The Heritage Lottery Fund has said it believes that parks "will not be disproportionately affected" under the new regime, but campaigners believe that the parks sector will lose out through lack of resources to put bids in, and because all bidders are fighting for a share of a smaller pot of money. 
A total of 101,312 people had signed the petition at the time of writing.
The petition says: "Our public parks and open spaces are much loved and used with an estimated 2.6 billion visitors each year but they are also suffering from severe cuts to parks services made by local authorities as they seek to balance their books.
"To make this worse the Heritage Lottery Fund (HLF) now wants to abandon their hugely successful Parks for People programme that invested millions of people's lottery money into improving parks and local facilities.
"Heritage Lottery Fund are currently consulting on this change in funding so help us to convince them to rethink and keep this precious funding so our parks can be protected and continue to be enjoyed by everyone."
TPA has said it will hand the results of the petition to the HLF before the consultation ends on 22 March.
The HLF has given nearly £900m in grants to parks projects which have helped transform more than 800 parks over the past 20 years. To contribute to the consultation click here.  
This post was written by: HortWeek