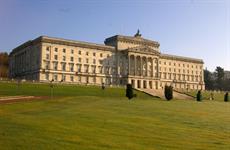 The seat of the Northern Irish executive and legislature, the Stormont Estate, near Belfast, is open to the public and its grounds have been awarded the Green Flag for four years in a row since 2014.
The Mo Mowlam Play Park on the estate was named after the former British secretary of state for Northern Ireland, Mo Mowlam, who was central to the Northern Irish Peace Process and the signing of the Good Friday Agreement which brought peace to the province. She also arranged for a play park to be built in the estate grounds during her time in office.
More than a decade later, the park is in need of an overhaul with ideas including zip lines, rope bridge and a cafe made out of a shipping container.
The government wants an inclusive play park for all children with equipment that maximises 'play value' to help children with physical and social development, stimulates role play and promotes imagination and creativity.
All aspects of the process are covered in the £725,000 contract, from detailed design and construction of several main play areas, design and construction of earthworks and topography features, drainage, surfacing, construction of drainage of the new play areas to accommodate the new topography and procurement and installation of various elements of play equipment.
The tender document also specifies the design, planting and landscaping of a 'feature gateway' and a shipping container to be used as a "cafe hub".
The existing toilet block also needs refurbishment and an existing ranger's office will be turned into a baby changing facility.
The deadline for tender submissions is 29 June. Click here for more information and to bid. 
This post was written by: HortWeek