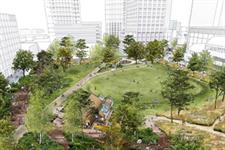 British Land has submitted an ambitious outline planning application for the 21 hectare area in south east London and has signed a Master Development Agreement with Southwark Council.
The planning application follows four years of development and consultation and covers up to 3,000 new homes, two million sq ft of workspace and one million sq ft of retail, leisure, entertainment and community space including proposed health and social and educational facilities. The plans take out the 1980s mall-style shopping centre and replace it with a network of streets and public squares.
A masterplan by Allies and Morrison seeks to better root the district within its surroundings and the natural ecology and features new connections to Southwark Park from the west and Russia Dock Woodland in the east, and to the River Thames through a series of open spaces, cycle paths and walkable routes.
"Water will become a definitive amenity and community gardens and play spaces will contribute to the wellbeing of both residents and visitors. Biodiversity corridors will help species to flourish and allow for travel between parks in the wider area," Allies and Morrison said. 
Townshend Landscape Architect is part of the masterplanning team and has based its public realm design on bringing residents and visitors "closer to each other and nature", with an emphasis on health, well-being and play. It has designed a series of "animated spaces" in the public realm which draws in nature and ecology with the vision "to create a public realm that brings together a network of carefully considered, locally distinct public squares, parks and streets, each with a clear character, use and identity."
British Land is also in talks to with London Wildlife Trust to develop a plan for the dock, which could include reedbeds and wildlife habitats
Head of Canada Water Development, British Land Roger Madelin said the regeneration would create "an exciting place to live, work and visit, delivering high quality design, active spaces and significant economic and social benefits for the local community."
He added: "We will put health and wellbeing at the heart of our plans to ensure the buildings and spaces we create encourage and support healthy lives."
The comprises Surrey Quays Shopping and Leisure, the SE16 Printworks, the Dock Offices and the former Rotherhithe Police Station. A decision on the planning application is expected by the end of the year, and work could start in the spring of 2019 if it gets the all clear. Final completion is currently estimated to be in 2033.
This post was written by: HortWeek