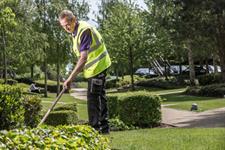 The facilities management company reported revenue of £2.2 billion for the year to 31 March 2018, up from £2.1bn the previous year, at the end of the first year of its transformation programme.
The company said that its landscape business had experienced "a good year with both adjusted revenue and adjusted operating profit increasing. The business retained existing contracts, and acquired new ones, with particular success in the retail sector which has been a core target over the past two years".
Operating profit before other items was £89.6m for the group overall and the group has an order book of £4.5bn, up 2.4%. Net debt rose from £147.2m in the year to 31 March 2017 to as at 31 March 2018 of £193.5m in the most recent financial year.
Adjusted operating profit before other items was down 6% but this was in line with expectations.
Mitie chief executive Phil Bentley said: "We are one year into our transformation programme and we are where we need to be. It has been a year of discovery, simplification and significant change, all set against a challenging market. We have made much progress, building the foundations that will ensure that Mitie is at the forefront of the UK facilities management industry.
"Our core business has demonstrated its strength and resilience and is performing well, our commitment to strong financial management remains unwavering and our focus on costs, customers, technology and our people is delivering tangible benefits.
"With an uptick in revenue, a normalising balance sheet, a good order book, a focused execution plan, significant investment in technology and a settled management team, I believe Mitie is well positioned for growth."
In his chairman's statement, Derek Mapp, said the year had been one of "discovery, transformation and change for Mitie, all set against a challenging and, at times, difficult market".
This post was written by: HortWeek