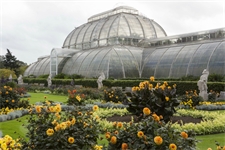 The proposed law (Standing Order No. 23) is due to have its second reading on Friday (23 February) after being proposed as a Private Members Bill by Richmond Park MP Zac Goldsmith.
The London botanic gardens believes it could make as much as £40m, mostly in the first 10 years from selling leases of parts of its non-core estate, should the law be changed to bring it in line with other Crown Estate properties such as The Royal Parks.
Kew says it is stymied by being under the auspices of the Crown Land Act of 1702, which only allows leases of up to 31 years. Kew is managed by a board of trustees on behalf of the crown, with 10 of its 11 members being appointed by Defra. The Queen appoints the last trustee.
Goldsmith told Parliament that Kew Gardens was a priceless asset, which his constituent David Attenborough has described as "the premier botanical gardens in the world".
Kew won a £50m capital grant from the Government following a high-profile campaign supported by Goldsmith and the MP for Hayes and Harlington John McDonnell in 2104, when Government's proposed cuts to Kew's funding left it with a £5.5m funding shortfall and threatening its core scientific work.
However Kew says it needs more cash for its ageing estate.
"Since then, Kew has gone from strength to strength. The Bill that I am proposing would help to build on that success and ensure Kew's future for many more years to come," Goldsmith said.  This straightforward and simple Bill would have a very big impact on Kew Gardens. It is backed by Kew Gardens and its trustees, and the Bill's previous incarnation—it was brought to the House during the last Parliament by my hon. Friend Mr Liddell-Grainger—was also backed by members from across the House. It is also supported by the three councillors who represent Kew ward."
He added: "In practice, 31-year restrictions on leases are stifling, and Kew Gardens has struggled to find commercial interest. A 31-year limit is clearly not attractive to those who would seek to lease the buildings, but a "150-year lease clearly would be.
"I stress that the Bill—this change—-would not involve selling assets, nor would it be about renting out Kew Gardens. The sale of Crown land is forbidden already by law, and any leasing of land would be on non-core land and property, and not on the gardens. The Secretary of State, who has the power to grant a lease, can do so only with the consent of Kew's trustees, who are duty-bound not to approve anything that would affect the gardens' core purpose. The Bill would do absolutely nothing to undermine that. Kew's UNESCO world heritage status adds further protection."
This post was written by: HortWeek