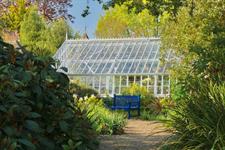 The garden was initially begun by plantswoman and author, Joyce Robinson, who created a planted dry river bed and experimented with gardening with gravel, a planting medium pioneered by Brookes in the early 1960's.  When Brookes moved to Denmans he redesigned beds created a pond, creating a contemporary garden that retained Robinson's planting style.  
Although he taught, lectured, and designed around the world, from Argentina to Japan, and Russia, he always said he 'gardened' at Denmans and that he loved the garden for it's peaceful, country feel. 
The garden, plant centre, and gift shop are open from 10-4 Tuesday-Sunday and its tea room, which has also gone through renovations, will open in mid-July. Proceeds will go to support the garden which will be part of the John Brookes-Denmans Foundation. The Foundation's mission is to perpetuate John Brookes' design legacy though education and the maintenance of Denmans. The Foundation will also celebrate Joyce Robinson's horticultural achievements.
This post was written by: HortWeek