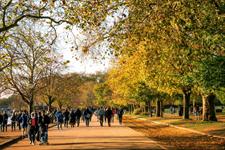 Based on the i-Tree and CAVAT valuation systems, the study found that each year, the trees of the world-famous park
remove 2.71 tonnes of pollution,
store 3,872 tonnes of carbon,
sequester 88 tonnes of carbon, and
intercept 3,584 cubic metres of rainfall.
Royal Parks tree manager Ian Rodger said: "This report places an amenity value of £52,378 each on some of our plane trees. I have come to believe in the practice of putting a monetary value on trees and this proves they are worth every penny."
The report's principal author, Treeconomics manager Kenton Rogers, added: "Identifying the benefits trees provide and quantifying those benefits in monetary terms reinforces how important trees are to society as living assets which increase in value with age and size."
Treeconomics will make its full report available when published, and copies can be requested from kenton@treeconomics.co.uk.
Not counting the adjacent Kensington Gardens, the 142-hectare park contains over 4,000 trees from 104 species and 45 genera. It attracts nearly 13 million visitors a year.
This post was written by: HortWeek