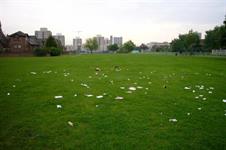 A tweet by idverde operations director Alistair Bayford the day after the 7 May bank holiday, showing photographs of littered parks and piles of rubbish dumped beside overflowing bins, has sparked a lively debate on Twitter about the problem of rubbish in our parks and green spaces. Maintenance operatives can spend as much as a quarter of their time collecting rubbish and picking up litter, and with budgets smaller than ever that is a real problem.
"Spare a thought for our parks staff and think — our parks are a vital resource but every pound spent on clearing up and waste disposal directs valuable resources from things like playgrounds, sports, improvements, infrastructure, horticulture, toilets, facilities etc. #parksmatter," Bayford wrote on Twitter. He was retweeted 139 times and "liked" 180 times.
Challenges and solutions
So what are the challenges and potential solutions? Professional horticulturist and plantswoman Sara Venn has one answer: "If you bring it with you, take it home with you. I've seen similar messages to this all across social media over the weekend. This is where we can all be the change we want — really simply."
Not everyone thinks the public is to blame, however. Former country park manager Colin Cheesman wrote: "In periods of heavy demand you need to increase the number of bin patrols. I managed a country park and we knew which were the most 'popular' bins and checked them as often as hourly at high peak periods."
Another commentator has suggested that parks should have bigger bins or leave bin bags out for the public to use. Others say taking the bins away altogether would prompt a cultural change.
Fines are one possible solution. City of London operational supervisor for parks, grounds maintenance and landscape project delivery Alex Piddington-Bishop suggests fines as well as taxes on takeaways — 50p on a can of drink through to £2 on a food box, with the proceeds going to parks and street scene.
"Our industry bodies should come together and push this up the public agenda. New York City parks apply 20 days in prison or a $1,000 fine for littering parks. When I worked in the USA and visited New York there was no litter, anywhere."
The Parks Alliance chair and Nene Park Trust chief executive Matthew Bradbury says it is straightforward for local authorities to make by-laws to fine people who drop litter in parks. "Employing a contractor or people to actually undertake the enforcement is simpler for councils," he adds. "But for us as a charity we have no ability to implement by-laws or enforce them."
The Clean Neighbourhoods & Environment Act 2005 gave local authorities the right to charge fixed-penalty notices for dropping litter. Many use this right to tackle cigarette butts or the scourge of chewing gum dropped on pavements, which costs an estimated £60m a year to clean up, according to the Local Government Association, which called for a chewing gum tax in March to help town halls pay this bill.
Litter solutions:
Messaging – "If you bring it with you, take it home with you"
Increase the number of bin patrols
Bigger bins
Instigate (and enforce) system of fines 
Behavioural change
Fines can drive behavioural change, according to the Chewing Gum Action Group, comprising Government representatives, gum manufacturers, trade bodies and charities including Keep Britain Tidy, which uses stickers, posters and other forms of advertising to encourage behavioural change. It says its annual campaign reduces gum litter by up to 66% in the areas taking part.
Local authorities can issue fixed-penalty notices of up to £80 in the UK and up to £75 in Wales. The Royal Parks also has fines of up to £60 for those littering.
Environmental services manager of housing association Southway Housing Trust Philippa Reece is one who believes people who litter "should pick up the bill, literally". She says managers of green spaces in residential areas, like her, have as much of a problem as those who look after parks, particularly with fly-tipping.
"I believe some of it is connected to the fact that for such a long time we have been very good at our jobs with enough staff to clear up. Now we don't have the staff so it's just really noticeable. We've almost created a rod for our own backs. Behavioural change is needed. What we are doing is clearly not working. It's everywhere and looks awful."
She adds: "My budget for tipping has gone from £45,000 to £10,000. Not massive budgets to start with but if you look at the percentage reduction, it's huge. We have taken a hard line on it and it's worked wonders for behaviour change."
Bradbury says the areas he looks after for Nene Park Trust saw a lot of litter over the bank holiday weekend. "It is getting worse. It's a combination of packaging and it's a cultural issue, people not really caring. It's costing an awful lot of money. You can't do other things that could be done.
"The volume of litter has increased so much. That's partly down to visitor numbers increasing. Instead of arriving with sandwiches wrapped in tinfoil, as they once did, people have pre-packed food and drinks in bottles and containers that they leave lying around the park. We have a big problem with alcohol containers lying around the park.
"I think the problem is twofold — an increasing amount of litter and fewer resources. Litter breeds litter. People care even less. Litter multiplies. Cleaning discourages people but when that is not possible it just gets worse and worse. I think, generally speaking, the cost of dealing with waste is increasing year on year."
Bradbury says a deposit scheme for recycling, as has been suggested as a solution to the single-use plastic bottle issue, would work well. Even if the original purchaser did not take the rubbish away to get their deposits back, other people would pick it up to get the refund.
"I think that's been successful where it's been implemented," he adds. "It seems to work very well but it's an incredibly sensible solution."
This post was written by: HortWeek