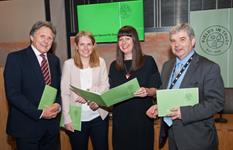 The charity launched its recently-published report Revaluing Parks and Green Spaces in the Senedd, the Welsh Assembly, today (23 May) alongside its new five-year corporate strategy which outlines an ambition for 75% of the UK population to be within a 10-minute walk of a protected park or green space by 2022.
On the same day, Fields in Trust's Scotland manager Colin Rennie gave evidence in the Scottish Parliament to its Local Government & Communities Committee, which included key findings from the report. 
The report presents new research which provides an economic valuation of parks and green spaces and quantifies the link between access to them and health and well-being. It found that parks and green spaces in Scotland contribute £2.8 billion per year to Scotland's community health and well-being and in Wales £1.6bn The value is £34bn across the UK. The existance of our parks saves the NHS millions every year, the report adds. 
Rennie said to the committee: "I'd invite people to look at parks and green spaces in a completely new way. Parks and green space should not be viewed as a nice to have or good to have but must have. We know that people who use parks and green spaces regularly live healthier lives."
Fields in Trust was sponsored by Dai Lloyd AM chair of the National Assembly for Wales' Health, Social Care, and Sport Committee, for the Senedd event.
He said: "As a GP by training, I am very clear about the physical and mental health advantages for regular park users. But what this report also demonstrates is that access to parks and green spaces helps keep people active in community spaces where they can meet others, help maintain connections with neighbours and help reduce loneliness – overall contributing to a reduction in the financial burden on health and social services."
The Fields in Trust research report also calculates that parks provide a total economic value to each person of just under £30 per year, and the value of parks and green spaces is higher for individuals from lower socio-economic groups and black Asian and minority ethnic backgrounds, an issue of interest to both Scottish and Welsh policy-makers.
The Welsh environment minister Hannah Blythyn said: "Our ground-breaking Well-being of Future Generations Act puts the health and well-being of future populations at the heart of decisions made at all levels of government in Wales. Our parks and green spaces play a vital role in the health of our communities and we need to ensure they are protected for years to come."
The Fields in Trust Cymru Chairman, Brynmor Wiliams said Fields in Trust's new research provided valuable evidence that the loss of green space is hugely damaging to people's welfare.
"The research also confirms that any decision by a public body to remove a park or green space is completely short-sighted – and will in fact likely cost more money than is saved. In health alone parks and green spaces saved the NHS in Wales at least £5.2 million per year through prevented GP appointments – enough to pay for almost 170 nurses.
"The evidence is now clear: green spaces are good, they do good and they need to be protected for good. That's why as part of our new strategy Fields in Trust is committing itself to protecting more green spaces, so that people up and down our country, both now and in the future, can continue to benefit from them."
Fields in Trust already permanently protects 268 parks and green spaces in Wales and 2,735 across the UK using a legal agreement which has a similar effect to listing a building.
This post was written by: HortWeek