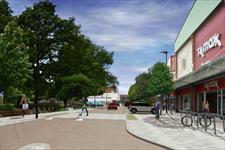 The contract is worth £1.7m and is expected to run from 19 October 2018 to 31 December 2019, with construction anticipated to start on 14 January 2019.
The council requires new extensive new planting as part of improvements to the entrance and northern edge of the Memorial Gardens public green space, a new public realm space for a potential future market, high quality paving, seating and improved lighting. 
The project builds on a previous scheme to improve Queens Square completed last year, and is being funded by Crawley Borough Council, West Sussex County Council, and the Local Growth Fund through Coast to Capital Enterprise Partnership as part of the Crawley Growth Programme. Its aim is to transform the area, encourage investment and act as a catalyst for wider regeneration.
The council is running an open process under the local tender route. The closing date for bids is Tuesday 26 June. Interested companies can visit in-tendhost.co.uk/sesharedservices/aspx/ProjectManage/19971 to bid for the works.
For more information visit www.regeneratingcrawley.org.uk/queensway.
This post was written by: HortWeek