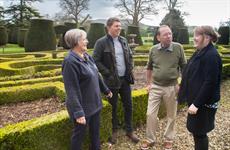 Bodrhyddan Hall has been the seat of the Langford family for 500 years and its gardens include an extensive pleasance, waterfall and lily pond, and ornamental flower bed designed by William Eden Nesfield during the Victorian era.
There is also a Woodland Walk which was reclaimed in the early 2000s.
The festival, launched in 2016 and organised by North Wales Tourism, saw 23 gardens participate last year and nearly 54,000 people visit over 16 days.  They spent an average of £38 each – a total of more than £2m.
North Wales Tourism chairman Claire Britton, said the impact of the festival could not be underestimated.
She added: "After just two years it has already proved its worth as way of encouraging visitors to our region, and support is getting stronger all the time.
"We're especially delighted that this year the official opening, on June 2, will be in the breathtaking setting of Bodrhyddan Hall, Rhuddlan.
Nurseries, stately homes, private gardens, tourist attractions and garden centres are all poised to offer a combined line up of more than 100 events across the region.
Click here to see the full list of gardens taking part.
This post was written by: HortWeek