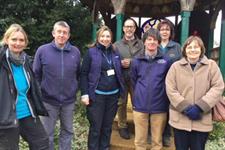 Issues raised at the launch meeting at The Shuttleworth Trust's Swiss Garden covered included networking, training, volunteers, event planning, pest control and organic gardening. Head gardeners from Woburn Abbey, Jordans Mill, the RSPB, Luton Hoo Walled Garden, Ampthill Park and the Swiss Garden attended, with the aim of this first meeting to identify issues and topics that would make this network most helpful in the future.
So far the trust has identified and contacted 19 gardens in the county and got a positive response from 10. It is hoped more gardens in Bedfordshire will get involved and the network will prove invaluable as a resource for sharing and support amongst the county's custodians of its gardens and designed landscapes.
Swiss Garden manager and Bedfordshire Gardens Trust committee member Corinne Price said:  "This initiative is something I am very pleased to be involved with, as I know many head gardeners continue to work in isolation without the support of large teams or a department which can offer advice on many of the issues attached to running a garden – conservation, training opportunities and plant diseases for example. 
"I used to work for the National Trust and English Heritage and we used to meet up on a fairly regular basis and that was very useful in terms of sharing ideas and experience, and giving and getting support. Hopefully the network will get more traction as time goes on."
Price said she hoped the idea would spread to other gardens trusts. The Bedfordshire Gardens Trust had some interest from head gardeners in nearby Hertfordshire but she said it would be better if different gardens trusts started their own networks.  
"The whole point of it is local gardeners with local issues, the local weather systems for example. We just thought it was a really good idea." 
"The network offers an opportunity to share concerns and ideas across Bedfordshire gardens, many of them an important part of the county's historic fabric. With the scope of Bedfordshire Gardens Trust's activities and support behind the initiative, we aim to bring horticulture and heritage into the same domain, which will hopefully prove to be of great benefit to those attending the meetings, as well as providing a forum for practical advice and support."
This post was written by: HortWeek