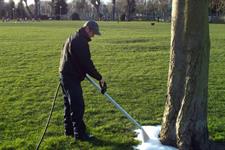 Almost 400 candidates across the major parties signed up to the Pesticides Action Network (PAN) UK pledge ahead of Thursday's local elections. All councillors elected to Richmond and Lambeth councils signed up, as did winners in half of the capital's 32 boroughs. However, the number of supporters is still small compared to the 1,828 borough councillors elected overall.
The campaign follows the lead of the London Borough of Hammersmith and Fulham, which has already phased out the use of pesticides for weed control. Rather than glyphosate or other such herbicide, it uses Weedingtech's Foamstream product consisting of hot water and vegetable oil.
PAN is hosting a meeting on 29 June to drive the campaign forward, with French politician Joël Labbé set to speak. He was the driving force behind legislation that banned the use of pesticides for the maintenance of green spaces, forests, pavements and roads, other than for safety reasons, in France last year.
"Already, across Europe there are sustainable, cost effective alternatives to pesticides being used in towns and cities. We want to replicate this across all 32 London boroughs and the rest of the UK", PAN policy officer Nick Mole told ENDS.
In a presentation given at a meeting in London on Tuesday, he said that hundreds of tonnes of toxic pesticides are used in UK towns every year, the most common ones being the herbicides glyphosate and 2,4-D, both of which are subject to contentious claims of carcinogenicity. Pesticide run-off also contaminates water supplies, he noted.
Beyond London, numerous other councils have adopted PAN's pledge, including Brighton and Hove, Lewes and South Shropshire. In addition, glyphosate has been banned by Glastonbury Town Council and Cornwall County Council is adopting a pollinator strategy that includes stopping the use of pesticides.
Outside the UK, more than 1,000 cities and villages in France have rejected the municipal use of pesticides, in the run-up to a national ban on non-agricultural use that enters into force in 2020. A similar ban applied in Belgium last year.
This story was first published by our sister magazine The ENDS Report.
This post was written by: HortWeek