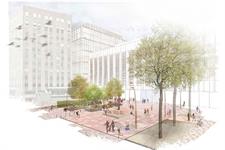 Landowners who are already investing up to £65m over the next five years in new and refurbished buildings in Lincoln Square have teamed up with Manchester City Council, which is contributing £1.2m to the project with an aim to make the square "a more welcoming and vibrant place for Manchester people".
According to a planning and consultation document prepared by Deloitte Real Estate "the area currently represents a missed opportunity to fulfil its original intention as a missing link between Spinningfields, the Central Business District, the Civic Quarter and beyond".
It adds: "The proposals represent a rare opportunity to provide £4m worth of private investment to act as a driver for improved commercial opportunity in the area by creating a strong identity, a new destination and a place that people want to embrace as their own."
The plan includes soft and hard landscaping including re-grading and re-surfacing footpaths and highways, extending the pedestrianised area of Lincoln Square and new street lighting and furniture. The application proposes retaining 12 of the square's "highest quality trees", removing "lesser quality trees" and planting 12 new semi-mature trees.
A peace garden, already approved by the council, will be created in the square and will include trees planted from the seeds of a Ginkgo tree damaged in the Hiroshima nuclear bomb that regrew the following year. The Friends of Manchester Peace Gardens has also been involved in the plans.
The square's Grade II Listed Lincoln Square statue, which was given by the US as a symbol of 100 years of peace between it and the UK and which reflects the historical connections between Lancashire and the United States in relation to the cotton trade and the emancipation of slavery will be removed during the work and re-installed.
Landscape architecture is by Planit-IE, who was appointed to prepare a masterplan in 2015. The practice, based in Manchester has worked on a number of other projects in the area as well as emerging proposals for Albert Square.
Leader of Manchester City Council Sir Richard Leese said: "The council's investment of £1.2m towards a £4m-plus scheme to improve the public spaces of Lincoln Square and Brazennose Street, with landowners contributing the other almost £3m, will help make this a more welcoming and vibrant place for Manchester people – a high quality link between Albert Square and Deansgate/Spinningfields as well as a place to spend time in its own right.
"Crucially, it will also help complement much larger private sector investment taking place in new and refurbished buildings which will support and create more than 3,000 jobs here. It will become a prime employment location with a high quality public square in the heart of the city centre."
This post was written by: HortWeek